opic
core and well cutting research facility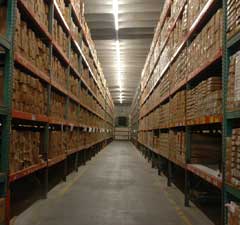 Left: View down one of OPIC's warehouse rows looking at stored cores, samples, and other material.
Summer Hours 7:00 am to 3:50 p.m., from 1 April to 1 October.
Access to the viewing area prior to 8:00 am at the side entrance near the handicap ramp.
Winter Hours 8:00 am to 4:50 p.m., from 2 October to 31 March.

Schedule may change due to seasonal weather.
OPIC's Core and Well Cutting Research Facility contains 408,500 boxes of subsurface cores and/or well cuttings from more than 9,000 Oklahoma wells. The collection also contains a limited amount of material from 44 other states, the Gulf of Mexico, and Canada. Core material related to coal, minerals and special stratigraphic studies also can be accessed on request.
The material can be viewed at OPIC by appointment. OPIC offers services such as core gamma-ray scan, X-ray imaging, core slabbing, core plug extraction, and photography. OPIC makes available large layout tables for patrons to use, and a number of offices are available to rent for those needing work space.
Cores and samples can be examined on site by appointment (see fee schedule). For customers using the material at the facility, Geological Survey personnel will locate and pull the requested material and make it available on the layout tables. Specialized searches can be conducted by the staff for a small charge. Materials needed should be requested in advance by e-mailing or calling Vyetta Jordan or Jonathan Green using the contact information below.
For an appointment or further information, contact:
Vyetta Jordan
Lab Researcher IV
jordan@ou.edu
405/325-1169
OPIC
2020 Industrial Blvd.
Norman, OK 73069
405/325-1299, 800/330-3996
Summer Hours: 7:00 a.m. to 3:50 p.m., beginning 1 April.
Access to the viewing area prior to 8:00 a.m. can be found at the side entrance, near the handicap ramp.

Winter Hours: 8:00 a.m. to 4:50 p.m., beginning 1 November.
Schedule may change due to seasonal weather.
.

OPIC layout tables with boxes of core ready for examination.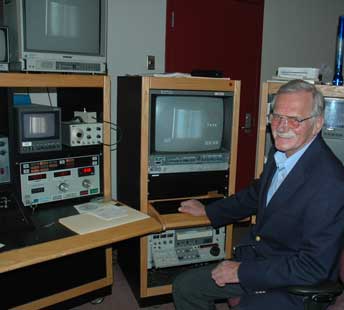 OPIC Manager Gene Kullman gets ready to make an X-ray image of core for a customer.