geologic Mapping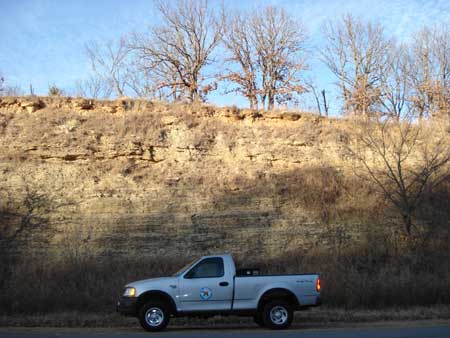 An OGS vehicle sits on the roadside as the mapping team gets an early start to their day.
OCTOBER 19, 2012 is GEOLOGIC MAP DAY!
The first-ever Geologic Map Day will be observed October 19, and is part of Earth Sciences Week, October14­–20. 
The theme this year for the week is "Discovering Careers in the Earth Sciences," to make students more aware of the geosciences and the many exciting career and job opportunities in the field.
Because geologic maps are so important, a special day was set aside to help the public understand more about these maps and what their uses are.  They have an important economic impact on our economy, but also are tools for recreation and conservation.  Geologic maps are important for siting dams and other large structures; exploring for energy sources and finding building materials; recreation purposes; road building and city planning; protecting and finding water sources; quantifying geologic hazards such as earthquakes, landslides and sinkholes; building lakes and then helping find good spots for fishing; and many other functions that allow us to develop and conserve our natural resources and make wise planning decisions.
In Oklahoma, the Oklahoma Geological Survey is conducting a long-term program of mapping called STATEMAP that will result in a new digital state map for Oklahoma, replacing the old 1954 version.
For more information about the Oklahoma Geological Survey, Earth Science Week and Geologic Map Day, visit:
www.ogs.ou.edu
and
http://www.earthsciweek.org/index.html