THIS PAGE HAS BEEN MOVED TO:
For additional information on world-wide earthquakes go to:
or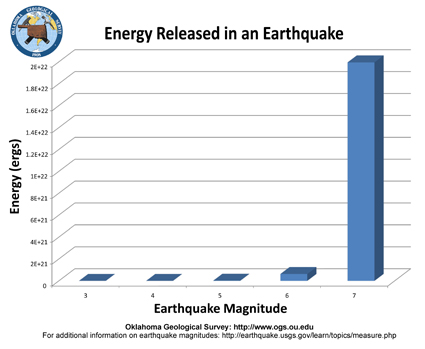 A brief update on the 2009 Oklahoma earthquakes northeast of Oklahoma City:
On average there are about 50 measurable earthquakes each year in Oklahoma with only a few of these having shaking strong enough to be felt.  A total of 43 felt earthquakes in 2009 made this an exceptional year for seismic activity in Oklahoma.  Twenty-seven of the felt earthquakes occurred in Oklahoma County, and another 7 were located in Lincoln County. 

Is the number of felt earthquakes occurring northeast of Oklahoma City, unusual? Somewhat, but at this point there is no reason to be alarmed.  Small earthquakes such as these can occur anywhere in the world.  The US Geological Survey (USGS) estimates that there are as many as 3,000 of these small earthquakes occurring every day.   Earthquake swarms like this can go on for many months, and usually do not lead up to a major earthquake.  

Do we know what is causing the earthquakes?  No, without further study it is not possible to determine what is causing the earthquakes.  The USGS and the Oklahoma Geological Survey are working together to conduct a limited field study to better measure any future earthquakes that could occur in eastern Oklahoma County.