Petrified Wood in Oklahoma by Neil Suneson
Available here
Suneson's 16-page publication on petrified wood in Oklahoma describes how the wood is preserved, where it is found, and from what geologic ages Oklahoma's petrified wood derives. He also gives you a look at its uses as a cultural object, the myths surrounding it, and its place in parks and monuments.
The 16 pages are packed with text, photos, illustrations and a map that give the reader an entertaining and informative look at a popular geological topic. Information Series 14 is reprinted from the Shale Shaker, and is now on the OGS website for you to read and/or download at no charge--just in time for National Fossil Day (see below)!.
Seven More Guidebooks to Oklahoma Geology Available for Download
Seven guidebooks suitable for non-technical use are available for free download at http://www.ogs.ou.edu/pubs.php. Just scroll down on that page and you will see them listed in yellow boxes as Open-File Reports. The guidebooks are part of the Survey's Open-File Report series and are unedited, author-prepared field-trip guides by OGS Geologist Neil Suneson and others.
These guidebooks were compiled for field trips for various groups and have not been made available on this website before now. The reports cover the Broken Bow uplift, southwestern Ozark uplift, Ardmore basin and Lake Murray State Park, Gulf Coastal Plain in Marshall County, Gypsum Hills, Black Mesa, and the Tallgrass Prairie Preserve in Osage County.
The reports contain a lot of useful information and can make for a fun trip to these Oklahoma geology sites.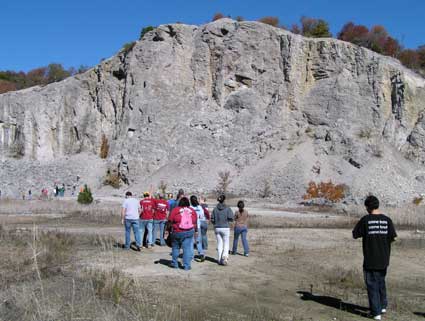 Have fun on a field trip!
10/1/12